I spent a while deciding what to make the body from. As I intend to avoid purchasing any materials there are going to be some restrictions on what I can do.
I'd already conceded that the body would somehow be composite and expected to make a blank out of several sheets of ply. However, I found I didn't have enough offcuts of sufficient size to do this as expected. What I did find though, was a nice piece of cherry - very hard and solid but still too small - it was the end of a plank.
However, I then got the notion to build the resonating structure of the guitar by mounting the neck and bridge to the cherry wood and fitting a facade on top. I did a google search to find out if, a) cherry was ever used for guitars, and b) whether anyone else had built a similar instrument of plywood facade over a solid block. I knew a little of the Danelectro construction with masonite and suspected that some archtops/semi-acoustics may have been similarly comprised, albeit with a full structure encasing the inner block. My idea though, was simply to have the solid block fronted with a facade.
Here's something I found on the net - Eric Mecum's plywood guitar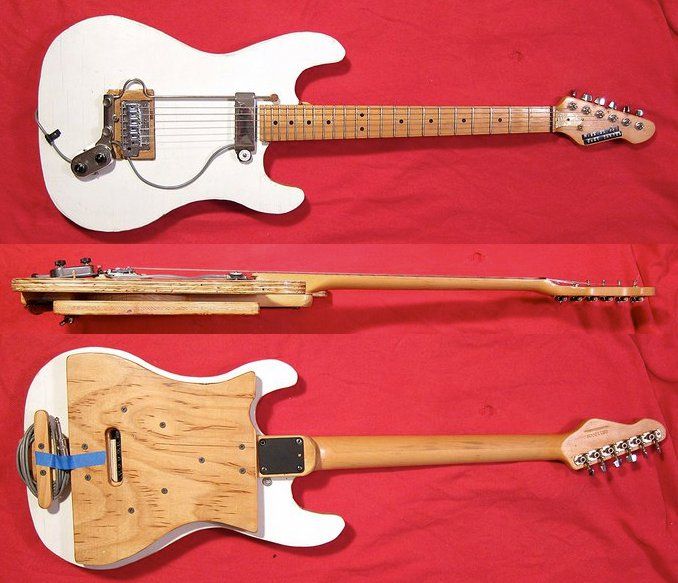 nice!
http://img.photobucket.com/albums/v118/turquoisemoleeater/guitars/EricMecumplywoodguitar.jpg
The above guitar is pretty much along the lines of what I was envisaging and I was enboldened to continue. By the way, you can check out more of Eric Mecum's guitar builds here:
http://www.ericmecum.com/?page=guitars
I also found cherry has been used but not widely - it seems that the standard mahogany, ash and alder being known quantities has led to folk having little desire to stray from the norm - the builder/player knows what they're getting with these. Still, no problem for my project - I barely have a clue how it'll end up and I'm trying to use whatever's to hand, so cherry it is..
I went ahead and cut some parts...
rough cutting the plywood facade

the hardboard template and the plywood facade
lined up ready for routing


the parts - neck attached to cherry wood base
a design tryout with paper and toothpaste cap
by products - the kids get involved